Keynote Speakers 2023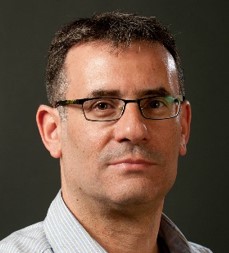 Yuval GOLAN
Professor PhD
Department of Materials Engineering, Faculty of Engineering Sciences, Ben-Gurion University of the Negev, Israel
Professor Yuval Golan obtained his PhD in the Department of Materials and Interfaces, the Weizmann Institute of Science in 1996. He then spent 3.5 years as a postgraduate researcher at the Materials Research Laboratory, University of California, Santa Barbara. In 1999 he joined the Department of Materials Engineering at Ben-Gurion University of the Negev and in 2010 he was promoted to full professor and appointed Director of the Ilse Katz Institute for Nanoscale Science and Technology at BGU. His research interests are in the area of Nanomaterials at Interfaces and include surfactant assisted synthesis of nanomaterials and chemical epitaxy of semiconductor thin films. Prof. Golan has published over 150 research papers in peer-reviewed scientific international journals and supervised some 40 junior researchers. Since 2016 Prof. Golan has been Chairman of the Synchrotron Committee of the Israeli Academy of Science. In 2020 Golan was appointed deputy vice-president and dean for research & development at Ben-Gurion University of the Negev. 
*
*     *
NANOMATERIALS AT INTERFACES: WET CHEMICAL ROUTES FOR SIZE, SHAPE AND ORIENTATION CONTROL
Wet chemical routes for synthesis of semiconductor nanostructures and thin films are straightforward, cost-effective and can result in high quality nanomaterials with precise size and shape control. Two synthetic methods will be presented, both in which interfacial processes play a major role. The first method, chemical solution deposition, offers a simple and versatile route for producing high quality semiconductor thin films directly onto single crystal substrates without the use of organic ligand molecules. A wide range of microstructures is obtained, from nanocrystalline films to 'chemical epitaxy' – monocrystalline thin films with a well-defined orientation with respect to the substrate. The second part will present the synthesis of highly uniform nanoparticles capped with alkylamine surfactants, focusing on the role of 'beneficial impurities' for controlling their shape and phase.  
[photo]
Firstname SURNAME O
Professor PhD Habil
Affiliation 

Biodata. 
*
*     *
TITLE 
Abstract. 
[photo]
Firstname SURNAME O
Professor PhD Habil
Affiliation 

Biodata. 
*
*     *
TITLE 
Abstract.